The rich offer of the Taropak Fair will be complemented by a special Zone of SPPES - The Association of Polish Producers of Self-Adhesive Labels, where companies offering self-adhesive labels will present themselves. The zone will be located in hall 6.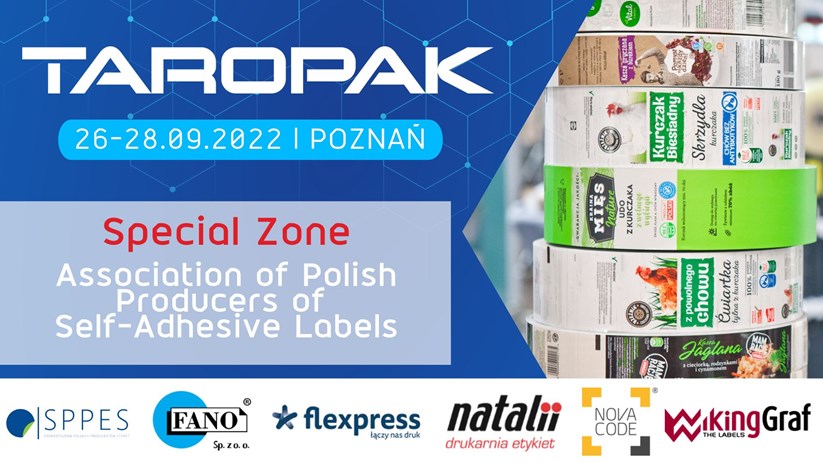 A special zone
Several companies offering labels will present their activities in a specially created zone, incl. FANO, Flexpress, Natalii, Novacode or Wiking Graf. Representatives of companies will appear at the Taropak Fair together with SPPES. A special zone will be located in hall 6.
SPPES
SPPES - The Association of Polish Self-Adhesive Labels Producers is an ordinary association of natural persons who are owners, members of the management board or members of supervisory boards of companies producing self-adhesive labels. The association was established in 1997 and aims to integrate the labeling community in Poland.
The zone is co-created by the following companies:
1. FANO
FANO specializes in the production of self-adhesive labels and roll-on packaging, adapted to labeling and packaging machines. The highest quality printing is guaranteed by a rich machine park equipped with NILPETER flexographic machines. A wide range of solutions enables various types of applications such as gilding, embossing, printing on the adhesive side, lamination or rotary screen printing.
2. Flexpress
The core business of Flexpress is printing self-adhesive labels, BOPP films and multi-layer laminates / sachets. The offer also includes non-standard products, such as fragrance labels, aluminum labels, personalized labels or special labels (sandwich type, covering labels).
Natalii printing plant has been operating since 1985 and specializes in flexographic and digital printing.
Thanks to a well-equipped machine park, trained professionals and, above all, reasonable management, Natalii has become one of the largest producers of self-adhesive labels on rolls and flexible packaging in Poland.
The company also produces IML, shrink sleeve and peel-off labels, tags, tickets to cinemas, theaters and sports clubs.
It also prints recycled papers, films and multilayer laminates for cosmetic pouches, tea envelopes, etc.
It has ISO 9001: 2015, FSC, ESKO FULL HDFLEXO certificates and has its own STORK printing and screen printing prepress.
4. Novacode
The Novacode company offers self-adhesive labels, tags, tickets, thermal transfer tapes, label printers and applicators for automatic labeling in the production line dedicated to many industries, including automotive, electronics, logistics, chemical, food, horticulture, cosmetics and many other industry sectors.
5. Wiking Graf
Zakład Poligraficzny "Wiking Graf" sp. J T. Jakubowski, founded in 1986, is a company focused on continuous development and offering high-quality printing products, in particular self-adhesive labels and pharmaceutical leaflets. In our activity, we use many years of experience in printing self-adhesive labels on rolls and in sheet printing based on modern technologies and machinery.