International Fair for Packaging and Labeling Technology Taropak 2019 will be held 30 September - 3 October 2019! Don't miss it!
TAROPAK is the largest forum in this part of Europe where the latest technological solutions for the packaging industry are presented. The event which brings together several hundred exhibitors each time and takes place in modern pavilions, has been very popular with visitors from its very beginning. The fair provides an opportunity to learn about the latest offerings and observe trends in the packaging industry, both in terms of production, materials used, as well as design or purpose. Thanks to a wide range of complementary events, the participants have an opportunity to meet for business meetings, as well as take part in conferences, workshops or lectures. The fair is also a venue for presenting packaging awarded in various competitions which promote innovative projects, characterised by their distinguishable design and ingenuity. The 2018 edition of Taropak was visited by 42,640 professionals from the industry, the exhibition area covered more than 25,000 square meters, where 430 exhibitors from 19 countries of the world showcased their offerings.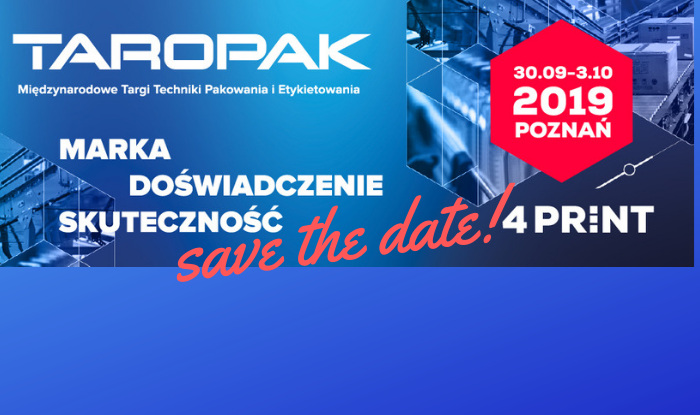 he Taropak fair will be accompanied by 4PRINT | DIGITAL | INDUSTRIAL | FLEKSO | 3D fairs, which will provide an opportunity to take a look at modern printing solutions. During the fair, exhibitors present innovative printing technologies for various materials, 3D printing or offset techniques, which are still very popular. The organizers focus to a large extent on solutions dedicated to different industry sectors. There are countless possibilities offered by modern print that can be applied in many different fields, from traditional printing, through the packaging market, furniture and food industry. Therefore, the exhibition will be extremely interesting both for the participants of the printing market, as well as for the owners and heads of printing houses, designers, advertising and creative agencies. The event is both a forum to discuss the role of printing today and a place to present innovative solutions.
BEST PRICES ONLY TILL 18 DECEMBER 2018! DON'T MISS IT!
30.09-3.10.2019