New products from igus at the Taropak fair 2022
During the Taropak Fair, igus® will be presenting its two new products: the 7th drylin® axis for all robots and the Delta robot. See below for more information on these devices.
Drylin® 7th axis for all robots
Thanks to a set of 7 axes, the workspace of popular lightweight robots can be extended with our linear module (or linear axis). It is controlled by digital inputs / outputs and meets safety requirements at the same time. Compatible with: igus robolink, EPSON, Universal Robots with UR CAP, Omron, Frank Emik, Doosan, Kawasaki, ABB, Fanuc, Yuanda Robotics and many more integration.
Flexible use of the robot instead of locking kinematics
Connection by means of a linear carriage of the ZLW-20 modular axis
Stroke lengths up to 3000 mm
Adapter kit including matching e-chain® system
The ZLW-20 toothed belt axis can be supplied ready for connection with a matched or separate set of adapters.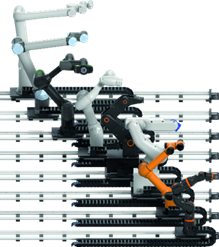 Delta robot as 2-axis kinematics
The two-axis delta robot was specially developed for high-speed operations. As a result, it can be used for pick & place tasks, e.g. picking from a conveyor belt, sorting or stacking.
For simple, fast and automated assembly tasks with a frequency of up to 100 downloads / minute
As a plug & play system together with the off-the-shelf igus® Robot Control system or dryve D1 stepper motor controllers
Maintenance-free dry operation
Dust and dirt resistant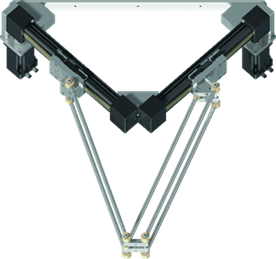 More news in the field of Low-Cost Automation.
source: igus®